With the birth of YouTube, video marketing has quickly become one of the best ways to engage in content marketing. With the rise of mobile usage, video content has evolved so that it can now be created for users on the go through platforms like Snapchat, Vine and Instagram. In the past month, I believe we have reached the next step of video content marketing – with live streaming apps such as Meerkat and Periscope starting to gain widespread recognition. If you are an early adopter or tech savvy, then you probably have heard of one or both of these apps and maybe you've already downloaded them as well.
The million dollar question, however, is if either Meerkat or Periscope is here to stay and if they have a future as part of a business' online marketing strategy?
Meerkat
The first on the mobile live streaming scene with a February 27th launch, Meerkat was the biggest winner of the SXSW conference in Austin, Texas this year, and what really helped it gain steam is when celebrities such as Shaquille O'Neal, Julia Louis-Dreyfus, Madonna, and Jimmy Fallon started using the app. Even widely recognized government figures like Jeb Bush and Mitt Romney took to using Meerkat.
Linked through your Twitter account, Meerkat has a very simple and easy-to-use interface that lets you broadcast content immediately or schedule a stream for the future. Once you start streaming, a tweet is sent out to all your followers with a link to your live broadcast. Comments can be made on the video which show up in the live feed and displayed on Twitter as replies to the original tweet with the broadcast link. Trying to capitalize on the immediacy and urgency of live streaming, Meerkat did not create a way for videos to be saved or watched again, so if you miss a broadcast it's gone forever.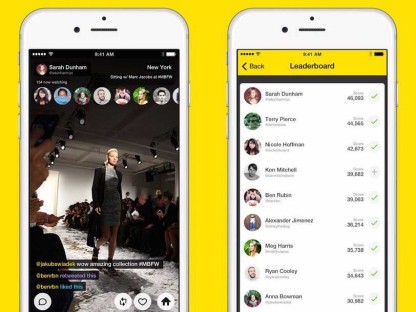 Already rudimentary in its features and functions compared to Periscope, Meerkat suffered a minor blow when Twitter (who owns Periscope) removed its ability to sync a user's' Twitter followers to the
live
video platform.To combat this, Meerkat came out with a recent update that has more user options within the app instead of on Twitter that include: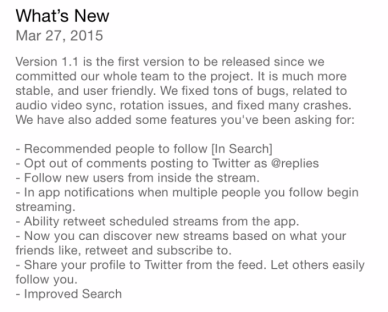 At the time of this article, Meerkat is only available for iOS devices and in the Apple Store, but videos are viewable on desktop or laptops as well.
Periscope
Periscope launched last Thursday, and despite being open to the public for less than a week, is already generating huge publicity and is predicted to overtake Meerkat in terms of adoption. This is because Periscope is owned by Twitter and has more functions and options as a live streaming app when compared to its counterpart.
Like Meerkat, Periscope is also synced to Twitter, but comments and interactions during a live video are not relayed and posted back to Twitter. Everything is confined to the privacy of the current live stream instead of being published on Twitter like Meerkat's citizen journalism approach. However, it does have a "People" tab in its app that lets you find and connect with Twitter followers who are also on Periscope. During a broadcast, participants are notified each time a new user joins and comments on the left side of the screen with scrolling messages. On the right side is a display of hearts that pop up when users like the video and are color-coordinated to the users on the left.
The feature that Periscope offers that Meerkat does not is the ability to save, upload, and watch past live streams – which also coordinates well with a home feed of featured live and recent videos. After ending a live session and uploading your video, some interesting stats pop up which shows total number of viewers, the video's retention rate, duration, and time watched.
Unfortunately, Periscope is also only available for iOS devices, but like Meerkat, videos can be watched on desktop or laptops as well.
Which Is Better?
While it might seem right now that Periscope will completely overtake Meerkat, the underdog has carried its SXSW fame to $14 million of funding from some notable names and companies. It's easy to see that the competition for live video sharing is heated and could grow beyond Periscope and Meerkat, and while the market holds enormous potential with today's social media culture of relevancy linked to immediacy, it's hard to see users gravitating towards multiple live streaming apps.
Yes, the argument can be made that this is already happening on the social platform with the numerous successful channels of Facebook, Twitter, Instagram, Pinterest, and Snapchat. However, each of these social channels offer something different so that it makes sense for people to have accounts with two or more of these channels. Meerkat and Periscope are essentially the same app, both offering live video streaming with very little separating them in terms of functionality. The true test for these apps now is to see what other functions or services they are able to implement that will further the live broadcast experience for users.
For now, both Periscope and Meerkat are still very new, and despite the early adoption of both apps by
numerous celebrities
it's hard to predict the future for either one as of yet. As both are linked to Twitter, the first step towards considering using Periscope or Meerkat for your business is to make sure that you have an active Twitter presence with followers that you know will engage with your brand. Try downloading one of the apps first and see if your followers have accounts too to determine if live video streaming is worth the investment. With the actual live video broadcasts, you can stream events, seminars, demonstrations, or capture company culture within your offices, just to name a few ideas.
It's important to remember that the best brands on other video marketing apps such as Vine, Instagram, and Snapchat have been creative and showcased their businesses and branding in unique ways, depending on their industry. Last of all, keep in mind that Meerkat and Periscope is live video streaming. There are no re-shoots or deleting your photo or clip and starting over. As much brand recognition you can gain with a smart, well-produced live session, be wary of the negative power of social media. Plan, strategize and even rehearse your live broadcast to work out all the kinks and problems you might run into before conducting a real live session with your target audience.